Construction Company Gifts, a division of The Gift Planner, offers unique corporate themed business gifts! We are the industry leader in creating and designing builder contractor and construction gifts. Your brand is very important, and we include your logo, message and corporate colors. Great gifts for great companies! Branded creative gifts as holiday gifts, thank you gifts, client gifts. We promise that we can create your company the perfect corporate gift for any special occasion or corporate event.
Builder Contractor and Construction Gifts
Have you ever thought about a great idea in your head? Something you wanted to send a client from your company. When you went to search for that idea, it didn't exist. Well, that is where we come in! We take your ideas and create your company the gift you have always dreamed of. The perfect gift to say thank you or we appreciate you. Your ideas become reality! Your brand matters and so do you! We work hard to make you look good.
The Chocolate Tools and Cookie Filled Electricians Tool Bag, is a unique and fun way to say thank you! A useful electrician tool bag filled with delicious electrical themed chocolate tools and delicious cookies. A great gift from any electrical company or electrician.
Useful and Delicious Gift Ideas
Proceed With Caution Chocolate Themed Tools Cookie Hard Hat will stop anyone in their tracks. A real hard hat filled with a dozen soft and chewy chocolate chip cookies and six chocolate construction themed tools of the trade. A useful hard hat to be used after the treats are gone! Makes the best gift to your favorite client to say thank you or wish them happy holidays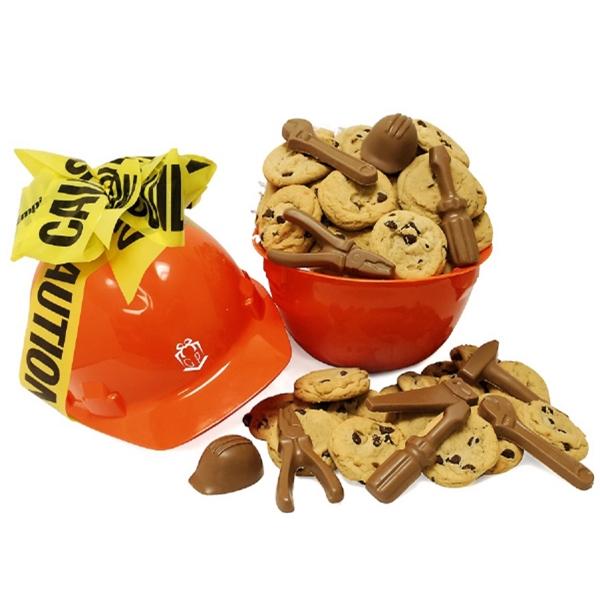 Are you looking for the perfect corporate holiday gifts? Great gift ideas themed for your industry and company! Our belief is that gifts can be twofold. Deliver a useful gift that any recipient can use and cherish, as well as delicious gourmet chocolate, cookies and nuts to enjoy. Whether you are sending to your favorite client or the entire office staff; they will LOVE branded gifts sent by your company!
Corporate holiday gifts are a great way to say thank you and get your brand out in front of the world to see. When you send a gift and show appreciation, it makes the receiver feel special and acknowledged. Allow us brand your gift using your logo and your corporate colors. We can theme your gift around your industry and company! Call us today at (602) 526-0963